Description
After you retire, your pension will probably come from several different places. If you have worked and lived in Sweden, you will get a national public pension based on the income you paid tax on. You might also have an occupational pension and a private pension scheme.
The Pension Pyramid illustrates the various sources of pensions in Sweden.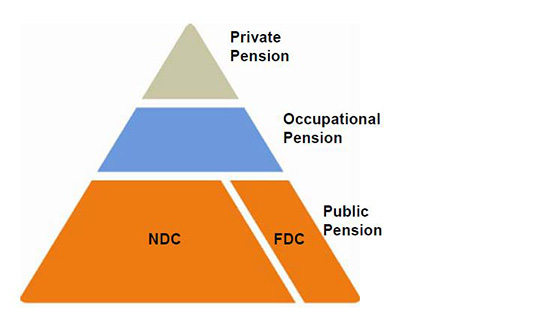 The base is formed by the national retirement pension paid by the Swedish Pensions Agency. Most employees also receive a collectively bargained occupational pension from their employer and if you have worked for the State, you will receive a state occupational pension. Some people also have a private savings scheme. The pensions add up to form your total pension.
Everyone who has earned pension in Sweden can log on to the pension portal Minpension.se and see their entire pension and make pension forecasts. The service is run and financed half by the State and half by the pension companies. This means that Minpension.se is a neutral and independent web portal, free of charge for the user. www.minpension.se
You must apply for the Swedish old age pension by yourself and you should apply in good time.
There is a recorded webinar about occupational pension on the webpage of The National Government Employee Pensions Board (SPV)
What is the orange envelope?
You will find details of your state pension in the orange envelope you receive each year from The Swedish Pensions Agency. You can also request a pension forecast for your state pension from the Swedish Pensions Agency.
Read more about pension at The National Government Employee Pensions Board (SPV)